Gives Control, where others can't.
Control all processes, tasks and assets in projects and companies with just one tool. 24/7 and in real time.
Whether in project management, for simplifying business processes or specifically as a customized tool for managing broadband networks: Thanks to its modular structure and seamless expandability, Rimo can be put together entirely according to your individual needs. Two areas, one goal: Efficiently and resource-optimizingly always keeping an eye on the big picture and maintaining control over all processes in the company.
Click on any element and discover the world of Rimo: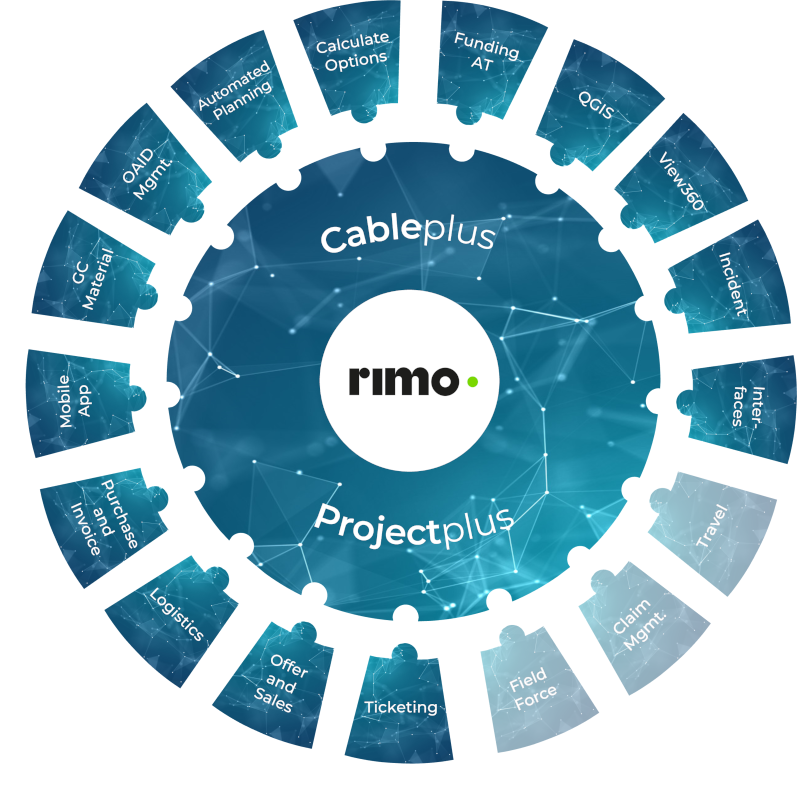 what's going on around rimo
Learn more about upcoming events, our products or get interesting Rimo insights.
That's something to be proud of: 182 years of concentrated expertise in the areas of cable management, project management and consulting. 4,200 user opinions from countless national and international projects. A team of 23 motivated employees in the areas of consulting, development and support & training. Any questions?
All that may sound unconventional, but it brings benefits for everyone involved: our customers, our customers' partners and, ultimately, our end customers.
Partnerships characterized by mutual appreciation are the basis for our success.
Don't miss any important info, events or other topics around Rimo – subscribe to our newsletter. So far our newsletter is only available in German – please contact us in order to receive an English version.